ANOTHER SPRING
a film by Mladen Kovačević
2022 | 90'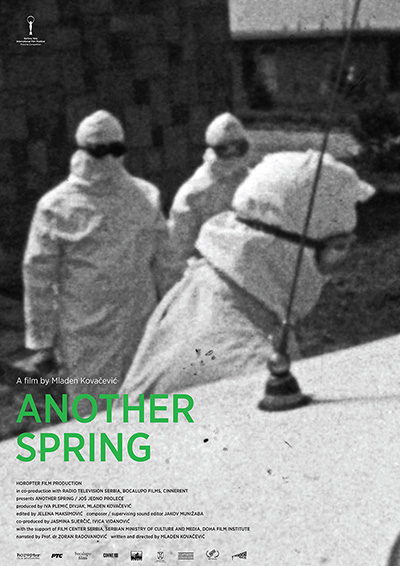 LOGLINE
In one of the greatest achievements of our civilization - eradication of smallpox,
the 1972 epidemic in Yugoslavia remains one of its most inspiring chapters.
SYNOPSIS
Another Spring is a medical thriller reconstructed from the 50 years old archive footage, taking place in the spring of 1972, when the deadly smallpox virus was brought into Yugoslavia from the bazaar in Iraq. The disease was spreading for a whole month before it was discovered in Kosovo, while in Belgrade it remained undetected even when the first patients started dying. Smallpox is the deadliest disease in human history that killed almost 500 million people in the 20th century alone. It is also the only deadly virus eradicated by humans, which is regarded as one of the biggest achievements of our civilization. In the story that united the entire world, the Yugoslavian epidemic is still remembered as one of the most horrifying and inspiring chapters. It was the final outbreak of smallpox in Europe.
FESTIVALS
Karlovy Vary International Film Festival, Czech Republic
Sarajevo Film Festival, Bosnia and Herzegovina
Doclisboa, Portugal

CREDITS
Writer and Director MLADEN KOVAČEVIĆ
Editor JELENA MAKSIMOVIĆ  
Composer JAKOV MUNIŽABA
Producers IVA PLEMIĆ DIVJAK, MLADEN KOVAČEVIĆ

Produced by
Horopter Film Production (Serbia)
In co-production with:
Radio television Serbia
CEO
Dragan Bujošević
Program Director
Vladan Čkrkić
Editor-in-Chief of Cultural and Artistic Programing
Vladimir Kecmanović
Assistant to the Editor-in-Chief of Cultural and Artistic Programing
Marija Bereta
Editor of Documentary Programing
Olivera Pančić
Bocalupo Films
Jasmina Sijerčić
Cinnerent
Ivica Vidanović

Supported by:
Filmski centar Srbije
Republika Srbija - Ministarstvo kulture i informisanja
 
Doha Film Institute
Developed through:
VdR–Work in Progress - Visions du Réel 2021
CONTACT
Horopter Film Production | Serbia
Phone +381 (0)63 8302 301
Email iva.plemic@horopter.rs
www.horopter.rs
Taskovski films
taskovskifilms.com
acquisitions@taskovskifilms.com


© HOROPTER FILM PRODUCTION
2022